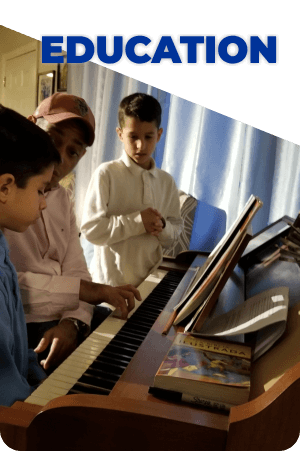 Music Academy

The following music lessons are currently offered:
Guitar and Piano
The cost per lesson is $20.00
For more information please contact:
    708 Wabank Street, Lancaster, PA 17603
    717-394-3021
Individualized English Tutoring – "Bridging the Gap"
WHO?
Do you need help in bridging the gap between basic and advanced English?
Communicating in the workplace and professional world
Succeeding in the college classroom
Preparing for the TOEFL
Preparing for the U.S. Citizenship interview and test
WHAT?
Do you need individualized help with particular skills?
Reading
Writing
Grammar
Listening
Oral Presentations
Accent Reduction
Using Idioms
Business English
Medical English
WHEN?
Do you have family and work responsibilities?
Once a week individualized one hour session
Monday-Friday: 8 am-4 pm
Saturday: 8 am-12 noon
Online tutoring through WhatsApp also available
CONTACT US TO REGISTER FOR AN INDIVIDUALIZED SESSION: 
To register, call the AOCC office at (717) 394-3021.
For more information about tutoring sessions, contact Daniel Gingrich by e-mail at [email protected]. WhatsApp (717-799-7750)
Please visit the English Resources page on our website.
FACEBOOK Page- AOCC English Tutoring
Teacher: Daniel Gingrich (se habla  español)
COST?
$10 per session
WE NEED YOU!
Countless families have benefited from your donations to the Alpha & Omega Community Center.  Make your contribution by donating via PayPal.