The ministries of the Alpha & Omega Community Center haven't stopped during the pandemic, and some are needed now more than ever.
The Food Bank serves the community the first and third Tuesday of each month.
Food Bank Coordinator Petra Castro facilitates this ministry by managing food-ordering and pickup, organizing volunteers, and registering recipients. In September 410 persons, including 57 new persons, received food.
Petra says, "When we lift others up, we are lifted."

Many families are experiencing food insecurity, and this ministry is vital. Each person who passes through the line receives not only much-needed food, but also the message that they are loved and valued.

Computers for Refugees, administered by Danny Gingrich, continues to receive and refurbish donated tech items. In September, six desktops, eleven laptops, two tablets, and one printer were distributed. Donations to this program continue, and a local accounting firm recently donated 21 laptops.

Since much communication and education now occur online, this ministry meets an essential need.
Computers have been provided for many families in which children need the technology y to participate in online instruction.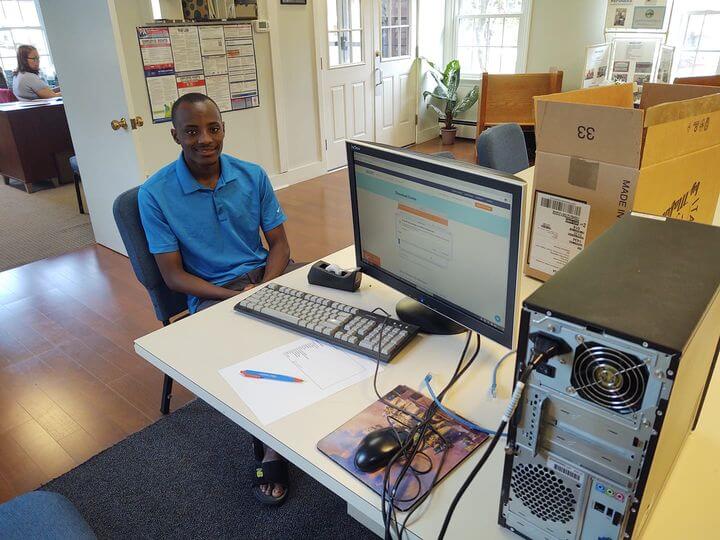 Danny also serves as the Center's English teacher. Much instruction has occurred remotely.
In September, Danny served 27 students in 54 sessions (18 hours of which were face-to-face.) He also participates in an online
medical English class and provides two additional remote classes, for students in Colombia and Cuba, respectively. One of Danny's greatest joys is to see his students make progress in the workplace and elsewhere. One student was offered a medical assistant position, another was accepted into IU13 teacher assistant training, and a third is graduating from cosmetology school.

During the pandemic, many persons experience problems and emotional needs. Counselor Angela Arce has been utilizing both the phone and videoconferencing to connect to the Latino persons she serves.
Music classes and a Spanish radio program also serve and bless the Latino community of Alpha & Omega and beyond.
YOUR SUPPORT IS NEEDED!
Due to the pandemic, the yearly banquet, the Community Center's major fundraiser, was cancelled. Donations from individuals, churches, and businesses are essential to the continuation of the many ministries that serve the Latino community of Lancaster.

Enclosed is a donation envelope., or give online at https://alphayomega.us/.
Please prayerfully consider contributing additional funds to this ministry. The Board and Staff greatly appreciate all donations as we see first-hand how those funds change lives.